HP Compressors
Designed to quickly charge 300 and/or 200 bar cylinders, MSA high pressure breathing air compressors work seamlessly as part of an air purification system that meets the highest, most stringent standards. Low operating speed for continuous, reliable operation. All moving parts are electronically balanced to run smoothly.
A variety of horizontal, vertical portable and mobile models with charging capacity from 100 up till 570 liters per minute (larger models on request) are available.
The compressors can be supplied with electric, gasoline or diesel engines.
Vertical models from 230 up to 570 are available also with highly efficient noise suppressing cabinet for indoor application.
Great variety of options and accessories are available.
Humidity control
Electronic Computer Control
Oil pressure control
Temperature control
Filling panels
10014875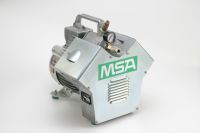 R-MEKO 720 Diaphragm compressor f.filter
D4066843
V-MEKO 400 Diaphragm compressor
For all models:
Modern design special purpose breathing compressors
Designed and manufactured for breathing air and continuous running also 24 h a day
Robust and strong 3-stage compressor-block ( 4-stages for bigger sizes)
Low speed compressors
Oversized long lifetime of valves
Only one coaxial valve instead of two for each cylinder
All stages with piston and piston ring
Low pressure oil-pump due to the piston-rings 3 stage
High capacity active coal/molecular sieve: 900 m3 and 1200 m3
For Low Noise models:
Low vibration and low-noise compressors
230 and 320 < 61 dB(A) @ 1 meter distance
450 < 64 dB(A) @ 1 meter distance
Cooling air flow with second ventilator, all parts are cooled down
Additional final stage heat exchanger
Markets:
Fire Service, General Industry, Mining, Oil & Gas, Utilities
Applications:
Welding, Firefighting, Confined Space
2006/42/EC - Machinery Directive
97/23/EC - Pressure Equipment Directive
2003/10/EC - Risks arising from physical agents (noise)
2000/14/EC - Directive relating to the noise emission in the environment by equipment for use outdoor
EN 12021 Compressed Air for Breathing Apparatus